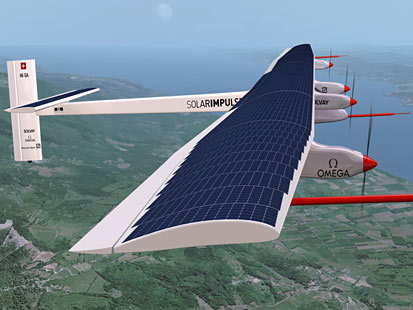 Solar Impulse's solar-powered aircraft may only have room for two, but make no mistake about it -- this plane is a big deal. The aircraft, dubbed the HB-SIA, brings aviation innovators one step closer to a solar-powered commercial airplane.

The plane's specs include a wingspan of about 200 feet, a weight of about 3,527 pounds and a maximum altitude of about 27,887 feet. At the project's helm are Bertrand Piccard and André Borschberg, the men behind Solar Impulse.

Piccard and Borschberg will unveil the plane's prototype Friday and, if the plane's test flights go well, plan to build a second plane in 2011, with the eventual aim of completing a flight around the globe.



Solar power can take us anywhere!